i know i'm late to the
party
... that's not unusual for me.
When did you start making socks? Did you teach yourself or were you taught by a friend or relative? or in a class?
i think i started making socks about 2 years ago. my dad wanted a pair of red hand knit socks... i learned how to knit socks to make him that red pair. he still doesn't have them. *blush* i *will* finish them for Christmas this year.
One person had great advice on knitting socks for me... Sharon at our Thursday night stitch n bitch. she's the one who turned me on to knitting from the toe-up... i haven't tried cuff-down since.
What was your first pair? How have they "held up" over time?
if i remember correctly, my first pair was done in Regia. i think they were in the clown colourway... and i think they're in my mom's sock drawer now. these, however, are one of my very first pairs and they've held up very well...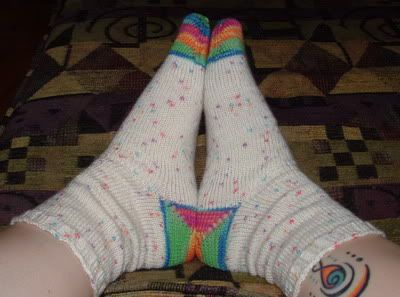 What would you have done differently?
the things i do differently now... i have learned how to do a better short row heel and how to increase the toe without holes. i've learned how many stitches i need to create a good fit for myself (those first socks were a bit on the tight side!) and how to bind of *loosely* at the cuff.
What yarns have you particularly enjoyed?
Trekking XXL (love the colours), Fleece Artist (soooo soft!), and Koigu. i love trying new sock yarns, but those three i know i'll use over and over.
Do you like to crochet your socks? or knit them on DPNs, 2 circulars, or using the Magic Loop method?
i knit them on dpns, usually size US 1, toe up :)
Which kind of heel do you prefer? (flap? or short-row?)
i've only ever done short row heels.
How many pairs have you made?
ermmmm... i've lost count. hang on... let me think... at least 20 pairs.